Welcome to Fontys! We are pleased that you have chosen one of the international Engineering study programmes (see below). We are looking forward to meeting you in person. To get you well prepared for your study at Fontys, we have gathered all information you need on this page. Please check this website regularly so you don't miss an update. If you still have any questions, please don't hesitate to contact us. See you soon!
Engineering study programmes are:

Applied Mathematics
Automotive Engineering
Electrical and Electronic Engineering
Mechanical Engineering
Mechatronics
Master Digital Technology Engineering
Master System Design
Account and IT information
After applying you received an e-mail from us with your personal login details. Sender e-mail: 'no-reply@fontys.nl'. Subejct e-mail: 'Fontys account creatie/creation'. Please save this e-mail carefully, you will need it!
For practically all online services at Fontys you have to sign in with your Fontys account. This account is a username and password combination. Your user name contains a PCN (Personal Communication Number) and the domain: '@student.fontys.nl'.
Being able to work and study securely is of the utmost importance at Fontys. That is why we continuously work on improving information security. We switched to a new way of signing in at Fontys: in addition to your username and password, you will also use an extra step as verification (multifactor authentication).
Eduroam (education roaming) is a service which enables students, researchers and staff to securely access the wireless internet at the Fontys campus and whilst visiting other participating institutions, using the username and login provided by Fontys.
Advice: Install the setting of eduroam on your private laptop, smartphone and tablet, at home according to the instructions. All will be set and ready to go when you arrive at the Fontys campus.
Short steps
Use your data connection or connect your device with an available WIFI network. At Fontys you can use: Fontys_WIFI_start
Scan the QR-code or use a browser (Safari, Chrome, Firefox, Internet Explorer) to access the website: http://wifi.fontys.nl
Read the instructions and follow them step by step
When requested: fill in your Fontys credentials <PCN>@student.fontys.nl
The correct settings will be downloaded. You will still be asked to typ your Fontys password (associated with your PCN)
After this steps all will be set and you are connected with eduroam.
FontysConnect, the intranet site of Fontys, is used to make (digital) information available, to share documents, to work together and as a search centre. Everyone with a Fontys account has access. If you log in to the Fontys website with your Fontys account you will land on your personal Connect page. From there you can access the various pages.
How do I get the card?
The student card is proviced once free of charge at the beginning of or during the academic year to all students who register for the first time at Fontys University of Applied Sciences. You will receive a student card when you are registered and you have uploaded a passport photo via www.fontyskaart.nl.
To upload your photo, click on the photobox on the page and follow the instructions on the screen.
It is most convenient if you have your student card right from the start of the educational year. It is best to apply for the card as soon as you know what is your address in the Netherlands.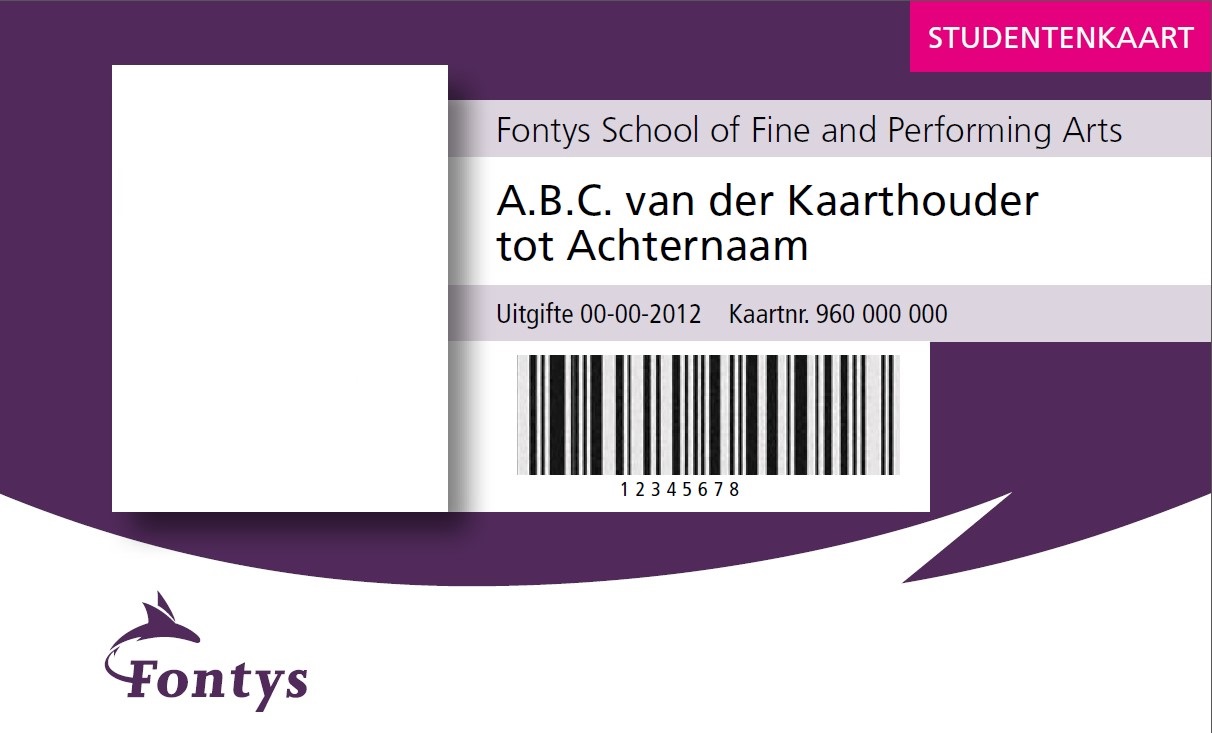 When do I need a student card?
As proof of identity at Fontys Universities; in order to prove who you are when requested (for example at exams).
Logging on to the Canon printers.
Access control; students can use the card to gain entry to buildings on Fontys property and at automated barriers.
Lockers; the student card can be used for the lockers in some Fontys buildings.
For the loan of equipment from the media libraries.
Fontys provides you with '@student.fontys.nl' email address. You can log in with your Fontys account. When you start your studies at Fontys, we will no longer send e-mails to your private email address, but instead only use your Fontys email address. Make sure you check this account regularly!
iPhone and iPad
Choose: Outlook for iOS in the Apple Store and install the app.
Add account and fill in your email address (name@student.fontys.nl)
Open verificator and you will be directed to the Fontys inlog page
Remove the email address and fill in your Fontys credentials:
: *PCN*@student.fontys.nl
: the password to your Fontys account
Skip the First Run Experience
Enable Notifications
Tap Allow 'Outlook can send you messages"

Android phones and tablets
Settings > Accounts & Synchronisation > Add Account > Microsoft Exchange ActiveSync.

Fill in the required details:
: The domain students use is: BERGEN. When domain is optional, leave this field blank. Some devices require the notation domain\username in one field. In that case write down: BERGEN\<PCN>.

Your username is: <PCN>@student.fontys.nl. Some devices require the notation domain\username in one field. In that case write down: BERGEN\<PCN>.
:
Write down your Fontys emailadress: <emailalias>@student.fontys.nl
:
The password to your Fontys account.
:
If your device asks for this, write down outlook.fontys.nl

StudentApp
The StudentApp 'MijnFontys' shows you your studyresults, important messages and news. As a student you receive push notificatons about schedule changes, grades and a calendar with important dates, for example exams, internships, submit assignments etc. (depending on whether your department made it available in the app).
The Fontys Student app ​​contains the following functionalities: timetables, study results and news. You will also find useful links and more information about help during your studies here.
Login with your Fontys credentials ([PCN]@student.fontys.nl and password) and easily add or change your timetable(s) yourself.
Questions about the Student App?
Mail: studentenapp@fontys.nl or call the IT Servicedesk (+318850 77777).
For questions about your schedule and study, please contact the secretary of your department.
If you click the button below you will find English information and manuals on various IT topics. You'll be able to find information about the Fontys network, printing, storage, mail, etcetera. You can also find the contact details of our IT Servicedesk here.
All Fontys departments (including teachers and staff) will only use your Fontys e-mail addresses to send you information.
Therefore, make sure that you check your mailbox regularly!
Study materials
We recommend you to use a laptop. There are general minimum requirements that the laptop must meet in order to participate in the study. We do not recommend that you purchase a Chromebook, it does not meet the minimum requirements.

Software deals for education
SURFspot is the ultimate non-profit ICT online store. SURFspot offers an educational discount on software, hardware and online educational resources.
So how does it work?
Go to SURFspot.nl and log in using your Fontys account (PCN@student.fontys.nl + password)
Learning materials for all Engineering students with starting moment .

Learning materials for the international Engineering studies with starting moment will be published around June 2024.

You can order your books at any (online) bookstore. Readers are offered digitally via the Canvas module of each study programme.
Starting your studies
When starting your studies at Fontys, it is nice to know when we expect to meet you on campus for the first time and what you will experience in the first months at Fontys Engineering.
For a successful enrollment it is necessary that you come to the Student Administration office in person to show your original diploma from your previous education with the corresponding list of grades. We cannot accept certified copies. This is an important condition to complete your enrollment before you can start your studies and get access to the learning environment.

The date of the Diploma-check Day will be announced around June 2024.
Student Administration office:
Nexus Building - room 0.47
De Rondom 1
Eindhoven
If you do not manage to come to the Student Administration office on this day, please make an appointment for another moment.

For last-minute admission questions please contact us:
Email: studyengineering@fontys.nl
Telephone: +31-(0)885077333
Whatsapp: +31-(0)6-38070029
After the Innovum/Purple introduction week (not obligatory), you will officially start your studies with a gathering for the first years students (attendance is obligatory). You will receive information regarding the first lesson week, such as your lesson schedule and orientation. You will also meet your study supervisor, some of your teachers, and your classmates. Please carefully look when, where and at what time you start as each study programme has its own start!

Information about your first day in class will be published around June 2024.
>Applied Mathematics
Date:
Time:
Room:
Address: Nexus building, De Rondom 1, 5612 AP Eindhoven
Important things:
>Automotive Engineering
Date:
Time:
Room:
Address: Nexus building, De Rondom 1, 5612 AP Eindhoven
Important things:
>Electrical and Electronic Engineering
Date:
Time:
Room:
Address: Nexus building, De Rondom 1, 5612 AP Eindhoven
Important things:
>Mechanical Engineering
Date:
Time:
Room:
Address: Nexus building, De Rondom 1, 5612 AP Eindhoven
Important things:
>Mechatronics Eindhoven
Date:
Time:
Room:
Address: Nexus building, De Rondom 1, 5612 AP Eindhoven
Important things:
>Master Digital Technology Engineering
Date:
Time:
Room:
Address: R10 building, Rachelsmolen 1, 5612 MA Eindhoven
Important things:
>Master System Design
Date:
Time:
Room:
Address: Brainport Industries Campus, BIC 1, 5602 BD Eindhoven
Important things:
If you want to plan holidays or other activities, it is useful to know when there are no classes.
Join our community
Fontys Engineering offers you several ways for you to become part of our community. It is up to you to join, but we highly recommend it. There is no better way to get to know your future classmates before you even set one foot on campus!
Are you curious to see who's also going to Fontys Engineering? Via the Goin' Connect app you can find other students already before arrival! Connect with other students or groups who are:
Into the sames sports or hobbies;
From the same nationality;
Starting the same study programme;
Joining the introduction week.
Or create your own group of interest! Our student ambassadors are also in this app and are ready to help you where they can with any of your questions.
All students have received a mail to register themselves to join your future classmates in our exclusive Fontys environment. If you have not received your registration mail please contact us at studyengineering@fontys.nl.
If you are interested in more detailed stories from international students or want to get in touch with one or more of them, check out this page.
By joining our student association, you will have the opportunity to meet many new people. Innovum is a young, active study association for all the Engineering study programmes of Fontys in Eindhoven. The association organises the introduction for new students, various excursions, lectures, student tutoring, a study trip, parties and activities which help improve the relationships between students. It improves the study time on both formal and informal level and makes it a lot more interesting. Furthermore, Innovum tries to be the connecting element between education and business.
Personal support
To give you a good start at your study, you will be in close contact with a student coach. He or she is your first point of contact for all practical and study questions, follows your achievements and gives valuable tips and advice where necessary.
We also advise you to bookmark the webpage Fontys helps. This platform offers practical information, personal support when you need extra guidance and useful links. But also interesting initiatives for you to join.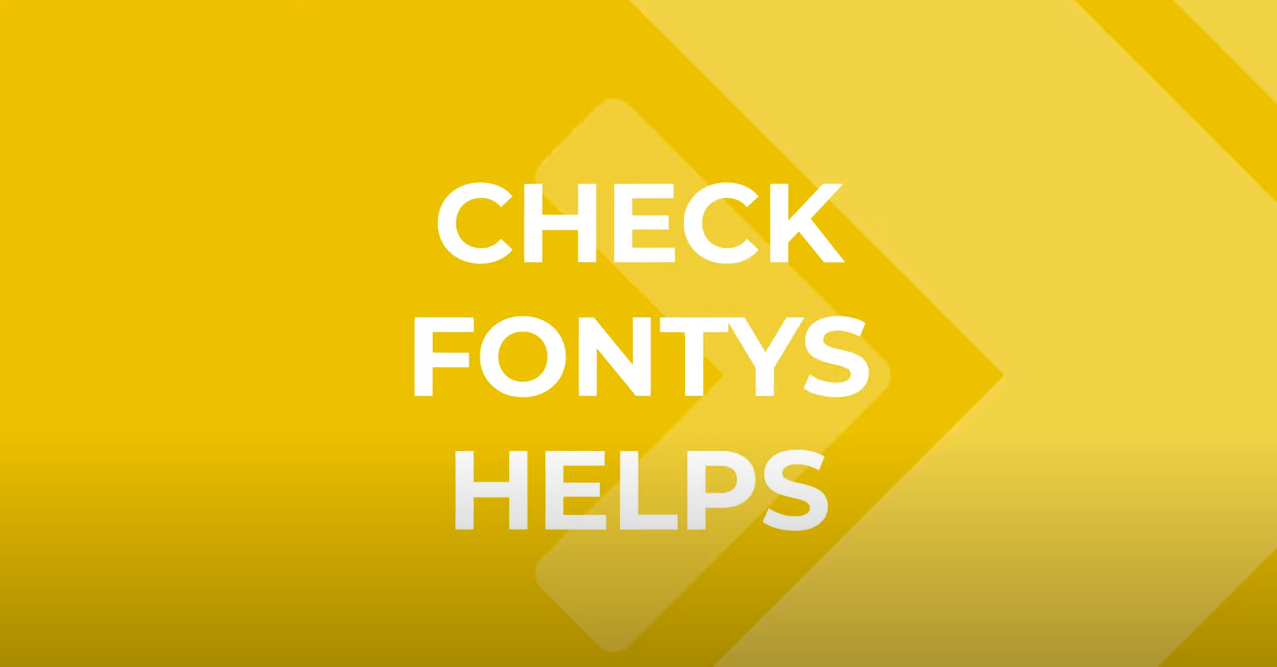 Student counseling Bèta Ritme
Student counselling Bèta Ritme is especially for Engineering students. Bèta Ritme offers coaching around various themes, such as planning, motivation, procrastination or stress. Besides this, Bèta Ritme also offers help in the step towards an internship or work. Coaching from Bèta Ritme is free of charge for Fontys Engineering students.
Team Bèta Ritme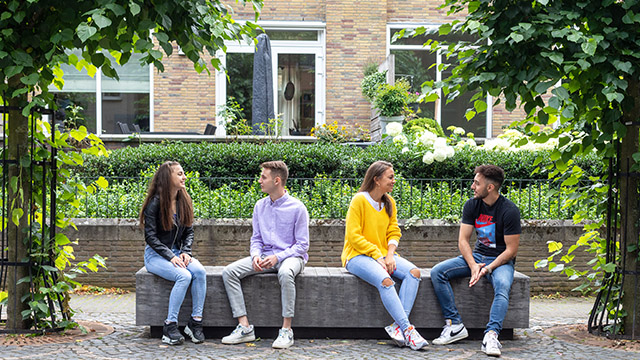 Your stay in the Netherlands
There is a lot to see and experience in the Netherlands. Here you'll find a lot of information about studying at Fontys, accommodation and also practical information like enrolling, visa, finances etc.