Enrolling for another study programme
Would you like to start another study programme within Fontys as of 1 September? Go to Studielink and log in using your personal details (with your DigiD or mail/password).Then choose the option 'No, I do not wish to re-enrol' in Studielink. Do this before 1 September. Click on the 'Enrolment application' button under 'My To-Do list' or use the 'Add New Enrolment' link under 'My Study Programmes', register for the study programme of your choice and then follow the steps as indicated in Studielink.
Do you want to switch programmes during the academic year? Please contact your study programme. You can do a Request for Deregistration (VTU) in Studielink for your current programme and a Request for Enrolment (VTI) for your new programme.
See the explanation below on how to enroll for another study programma.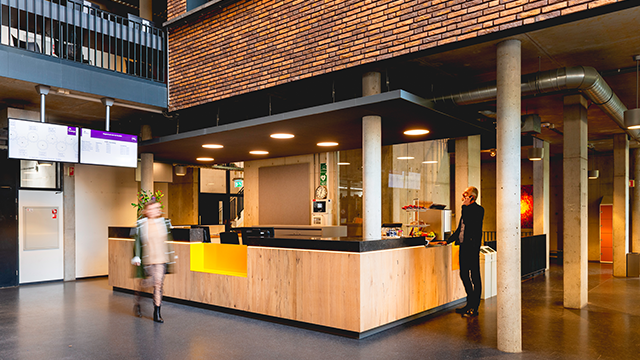 Go to Studielink to apply.
Go to Studielink and log in using your personal details (with your DigiD or mail/password);
As soon as you have logged in, Studielink will retrieve your personal data from the BRP (formerly GBA). You have to fill in your contact details yourself. NOTE: make sure you have an active e-mail address. You will receive a message from us within 48 hours at the e-mail address you entered. If you do not receive anything, check your spam box.

Always confirm your details.
Your next action is to submit a request for enrolment. Here you indicate which course you want to take and when you want to start. Regularly check your messages in your Studielink dashboard.
You have applied for a course. This does NOT mean that you are already enrolled. You are not enrolled until you have fulfilled all the enrolment conditions.
It is very important to us that you choose the right programme and start your studies with a good feeling. The study choice check and the accompanying 'check-in' meeting can help you do just that!
How does it work?
You register for one (or more) study programme(s) via Studielink. We advise you to take part in at least one study programme before you apply. See the study activities calendar for this.
We will send you a short online questionnaire about your study choice and your expectations.
When you complete the questionnaire, we invite you for a check-in interview and discuss the answers from the questionnaire. Some programmes may organise additional activities such as a maths exercise.
You will receive personal study advice.
If you meet all registration requirements, we will enrol you.
You start your programme, welcome!
Did you apply after 1 May?
If you register after 1 May, your registration may be refused if your study advice is negative. If you do not agree with the final recommendation, or if there are special circumstances, you can lodge an objection. The Study Programme Advice Regulations describe how you can lodge an objection.
Je regelt de machtiging voor de betaling van je collegegeld uiterlijk vóór 1 september.
You can give authorisation in your Studielink dashboard from mid-May; you will receive an e-mail about this.
The first direct debit will take place on or around 25 September.
More information on tuition fees can be found here. Meer informatie over het collegegeld vind je hier.