Is Venlo the city you want to study in? It's nice to know what this city has to offer. Find out more about living and studying in Venlo and what study programmes can be found here.
At Fontys in Venlo we prepare you for the work field from the first week of your studies. You will work on projects in cooperation with businesses, you will learn to network and you will be trained in applying for jobs.
Even though Fontys is one of the largest educational institutions of the Netherlands, our university is organised to provide education in small classes. The classes consist of around 30 students.
Walking through the buildings you will hear many different languages. There are over 50 nationalities studying and working at Fontys in Venlo, therefore you will have the opportunity to learn about and from other cultures and to learn new languages.

Study programmes in Venlo
At Fontys in Venlo we offer you Bachelor's and Master's study programmes in the field of Business, Logistics, IT, Design and Engineering. Our campus is well-known for being small-scale and personal. Yet we still have over 50 nationalities studying at our campus, providing you the opportunity to live and learn in an international teaching environment.
Why Venlo?
4.000 students are currently studying in Venlo, which makes us a small-scale and personal campus
Every student is assigned to a personal study coach
There are many different nationalities studying in Venlo, with the opportunity to collect even more international experience during your studies
Studying in Venlo means living in a mid-sized and cosy city
Research and companies
Fontys Venlo has a large network. We cooperate with universities and companies all around the globe. Many of our students are going abroad for an exchange semester at a partner university. Furthermore, they conduct research and work on a wide range of business problems for companies in internships and single projects.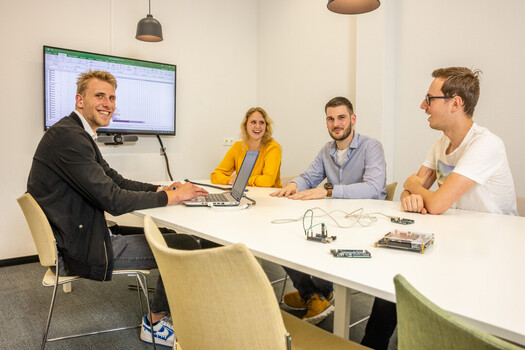 Take a 360º tour of Fontys Venlo
Check out our campus, hybrid learning environment, student accommodation and of course Venlo city centre in the comfort of your own home. Navigate through the buildings and streets and watch videos of the different study programmes to learn more about us.
Have fun touring!