Degree Certificate Higher Education
Once you have graduated, you will receive a degree certificate.
The government has set conditions for the level, quality and reliability of certificates. The degree programme you have attended is accredited by NVAO (the Accreditation Organisation of the Netherlands and Flanders) and together with the requirements set by the government, the value of a certificate becomes clear. Once you have passed, a notification will be sent to DUO (the Education Executive Agency of the Netherlands). As from that day you are known as a graduate at DUO.
Therefore the certificate that you receive is a value document. Every certificate issued by Fontys has the same established format.
The paper is numbered and has security features incorporated in the paper:
A micro text in the square purple area of ​​the logo at the bottom of the document;
A silver foil strip on the right side of the document with a cut-out of the monogram of Fontys Hogescholen;
The unique paper number of each certificate is also executed in laser perforation. When in doubt about the authenticity of the document, you can request verification at Fontys Hogescholen;
The paper has a worldwide protected watermark.
In addition to the certificate, you will receive a diploma supplement.
Diploma supplement
All students graduating from a Degree programme at Fontys Hogescholen (Fontys University of Applied Sciences) receive an English Diploma Supplement.Automatically and free of charge.
In October 2011 the European Commission announced, that Fontys Hogescholen has been awarded the Diploma Supplement Label (DS Label).

The Diploma Supplement is an attachment to the certificate and provides insight into the level, nature and content of the study programme that was successfully completed. It includes a description of the study programme that was pursued and the results gained. The Diploma Supplement has been implemented within the scope of the Bologna process to improve the 'transparency' and equivalence in higher education in Europe and the professional and academic recognition of qualifications (diplomas, degrees, certificates etc.).

The Diploma Supplement provides future international employers or institutions for follow-up studies insight into the main elements of the study programme that was pursued (the transcript of credits with the amount of ECTS credits achieved). Fontys is also entitled to carry the Europass logo.

The Fontys Diploma Supplement is issued in English and has been developed in accordance with the template that has been developed by a joint European Commission Council of Europe – UNESCO/CEPES working party. It includes a description of the study programme that was pursued, as well as information on the Dutch education system.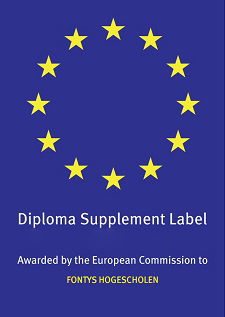 Fontys Grade Distribution Table
To help other universities and your potential employers interpret the value of your grades, Fontys publishes Grade Distribution Tables for Bachelor's and Master's graduates.
more information
More information