Do you regularly experience too much stress, which hinders you? Or you don't feel motivated? Do you want to gain more insight into your own way of acting? And do you want to do that in an active way? Then boxing coaching might be something for you.
For whom?
For students who want to gain more insight into their own way of acting, if you for example experience stress or if you don't feel motivated.
Practical information
A training group consists of a minimum of 7 and a maximum of 10 students. If there are 6 or less participants, the introductory session or training will not take place.
You can go to the introductory session for free.
Wear comfortable sportswear and trainers suitable for physical activity.
Bring a bottle of water
Luuk Henssen of MoveMinds will provide the introductory session
What will you do?
You will be active and sporty in a small group setting. Through self-reflection exercises you gain insights about your behaviour and feelings. The session is a combination of game, boxing
techniques and psychological elements. This happens in a safe environment, where there is no hitting on the head and where personal stories remain within the group.
Trainer Luuk Henssen closely monitors physical and social safety during the training sessions.
The themes that will be discussed include:
Setting boundaries
Assertiveness
Stress regulation
Resilience
Various boxing coaching techniques are used, including mindful boxing and breathing exercises.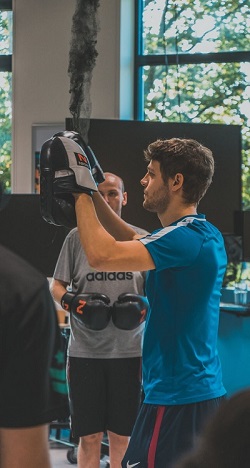 Sign up
Introduction session - Eindhoven
Date: Tuesday 26 September 2023
Time: 15:00 - 17:00h
Location: R5 1.05, campus Rachelsmolen in Eindhoven
Language: English
Introduction session - Tilburg
Date: Tuesday 31 October 2023
Time: 15:00 - 17:00h
Location: C0.19, campus Stappegoor in Tilburg
Language: English